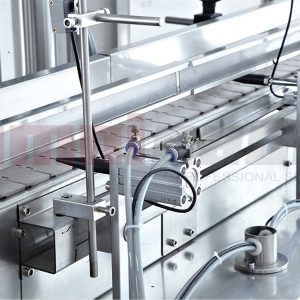 Omnipack 100 (20-100ml) Fully-Automated Bottle Jar Liquid Gel Cream Paste Filling Machine (Bottling Machine)
Easy-To-Operate 4-Head Liquid/Gel/Paste Piston Filling Machine (Liquid/Gel/Paste Filler)
Interested In Capping Machine and Labelling Machine With This Filling Machine?
Ask Us For A Package-Deal Price!
View More
$27,950.00
Compare
Product Description
A High-Quality Commercial-Grade Fully-Automated 4-Head Liquid/Gel/Paste Piston Filling Machine that is suitable for releasing liquid (Such as water) or paste using air pressures at pre-set filling volumes at the same time quickly and continuously. A 2m long conveyor is included (A longer conveyor is also available).
This machine can be custom made to suit your application.
The bottle sorting machine is not included in this sale.
We also have a fully-automated bottle/jar sorting machine, a fully-automated bottle/jar capping machine, a fully-automated labelling machine to suit this filling machine at realistic and affordable prices.